Founder, The Fresh Diet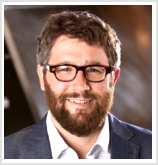 Through thoughtful development and deployment of technology, the use of social media and his own marketing skills, Zalmi Duchman and The Fresh Diet would come to define that industry by understanding how to scale the business while maintaining the personalized customer service and attention to detail that it required.
At the beginning, while Zalmi "shopped and dropped," his wife "cooked and packed." Within six weeks he had 13 clients, one year later there were more than 100 clients and by the end of 2007, The Fresh Diet had revenues of more than $1 million. Zalmi lead The Fresh Diet through several rounds of explosive growth to become the largest U.S. food producer in the freshly prepared, daily delivery category. The company now delivers meal plans to thousands of clients nationwide and was recently acquired by a publicly traded company.
Zalmi and The Fresh Diet have earned numerous prestigious accolades over the years, including making the Inc. 500 List in 2010, 2011 & 2012, The Forbes Top 20 Most Promising U.S. Companies List in 2011 & 2012, and being recognized as an Ernst & Young Entrepreneur of the Year Nominee in both 2009 and 2011.
Due to its popularity and success, The Fresh Diet and its founder have garnered national media attention. By using social media in its early years The Fresh Diet landed on "The View" twice and was named Us Weekly magazine's "Diet of the Year." Zalmi and his company "starred" in a Chase Bank TV commercial and Zalmi was invited to ring the opening bell on the NYSE as one of Startup America's Entrepreneurs of the Year.
The Fresh Diet was recognized in 2011 by the U.S. Small Business Administration as a top SBA 100 Company, and their winning video submission was prominently featured at the National SBA Small Business Week Awards Conference in Washington, D.C. In April 2012, Zalmi had the privilege of attending President Obama's signing of the Start-up Act in the Rose Garden.
While he continues to work with The Fresh Diet on high-level strategy, Zalmi is active in the startup community, investing his time and money in early stage ventures. His primary focus for investments and advisory positions are in food-tech, IoT (Internet of Things), Uber models, sharing community models and electric bicycles. Zalmi also actively follows the crowd funding space; staying current with the exciting opportunities it now brings to the average investor.
He sits on the board of MEDO (Miami Entrepreneur Development Organization) and is a mentor for startups at Venture Hive, an incubator/accelerator in Downtown Miami. Zalmi has spoken at numerous small business events such as Inc. Magazine's GrowCo, as well as other high profile business conferences.
Born in Brooklyn, NY, Zalmi has lived in New York, Miami, Los Angeles and Israel. He is a board member of the PSF Friendship Circle, a special needs children charity.
Zalmi married his wife, Leah, in June 2001 and they have three children.