Chairman of the Board of Directors, U.S. Black Chamber, Inc.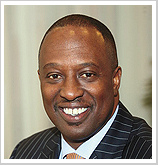 Ron Busby, Sr. is President and CEO of U.S. Black Chamber, Inc., the nation's newest and premier non-profit organization for black business owners. Busby, also an entrepreneur, received recognition as one of the country's best CEOs for overcoming multiple challenges to grow his first business, USA Super Clean, from $150,000 annual revenue to more than $15 million per year.
Busby is the recipient of countless awards: the Western Region SBA Small Business Person of the Year in 1996, the Greater Phoenix Chamber Small Business Person of the Year in 2006, and the Maricopa County Small Business of the Year in 2007, to name a few.
Busby graduated with honors from both Florida A&M University and Clark Atlanta University. He strongly advocates and promotes education, especially the importance of higher learning.
During his tenure as chairman and president of the Greater Phoenix Black Chamber of Commerce, Busby worked towards the success of a national black business agenda. This objective remains a priority of Busby's to this day.
As part of the Advice Straight Up: An Expert Entrepreneur Speaker Series, the Jim Moran Institute collaborated with the Big Bend Minority Chamber to co-sponsor the Keynote Luncheon of the 2013 Tallahassee Regional MatchMaker Conference. This was a part of the Small Business Development Center's 30th Annual Small Business Week Events.