CEO & Founder, SEE/RESCUE ®  Corporation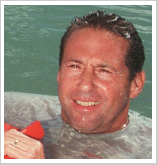 Dr. Robert Yonover is the CEO and founder of SEE/RESCUE® Corporation. A scientist, inventor, bootstrap entrepreneur and author of Hardcore Inventing, he holds 20+ patents worldwide. On April 12, he will talk on Turning Ideas and Inspiration into a Profitable Business - Lessons learned from inventing the SEE/RESCUE® Streamer.
After flying over the ocean in a sputtering single - engine plane, Dr. Rob was inspired to invent the SEE/RESCUE® Streamer, an emergency signaling device. It would be his first inspiration in what became an epic 11-year journey to bring his invention to market. He ultimately prevailed and the device is used by all branches of the U.S. military, onboard all U.S. Navy submarines. It has grossed him millions in royalties.
In a story filled with challenges both personal and professional, Dr. Rob will share his secrets for success in the high stakes world of military contracts and big business. Learn how to find your creative inspiration and market your business locally, nationally, and globally on a shoestring budget on April 12 as Dr. Rob shares his Advice Straight Up.