CEO & Founder, Xtreme Solutions, Inc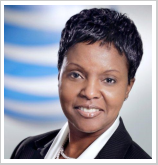 Phyllis W. Newhouse is the CEO and Co-founder of Xtreme Solutions, Inc. She is a retired United States Army Non Commissioned Officer, and she has worked tirelessly as an advocate for homeless veterans supporting Quest 35 in Atlanta. Newhouse is a member of the National Association of Women Business Owners (NAWBO) and the Women Presidents' Organization (WPO). She has received numerous military awards and recognitions over the years. She was recently selected as 2014 Womenetics POW! Award recipient. She was a winner of Ernst & Young 2013 class of Entrepreneurial Winning Women. She has been awarded the 2012 Marilyn Johnson Women of Color Achievement Award. Phyllis currently serves on The Board of Directors for Girls Inc., and Enterprising Women Magazine Board of Advisors.
Xtreme Solutions, Inc., founded in 2002, is an end-to-end IT services and solutions provider, with offerings that range from IT business consulting to state-of-the-art cyber security consulting and forensic analysis. Xtreme Solutions, Inc. has been recognized by the Women Presidents' Organization (WPO) and their sponsor, Amex OPEN, as one of the top 50 Fastest-Growing Woman-Owned Businesses in 2013. Inc. Magazine's Hire Power Awards honors Xtreme Solutions, Inc. for ranking fifth in Georgia jobs creation, 10th in revenue and 18th in job growth over the past three years. Xtreme Solutions, Inc. has an affiliation with AT&T's Operation Hand Salute Mentor Protégé Program. Additionally, Xtreme Solutions Inc. has been noted as one of the fasted growing companies in America making the Inc. 500/5000.
Xtreme Solutions is distinguished by seasoned and exceptional professionals with the business acumen to align our customers' needs. Xtreme Solutions prides itself on providing the honesty, integrity, and service necessary for long-term client partnerships by delivering within the agreed price and schedule. Xtreme Solutions is dedicated to the delivery of quality services contributing to the well-being of our communities throughout the world.
As part of Advice Straight Up: An Expert Entrepreneur Speaker Series, the Jim Moran Institute brought Phyllis Newhouse to speak at the Urban League of Broward County. Previously, she was the Advice Straight Up Speaker for the May 2014 Small Business Week & Big Bend Regional Matchmaker Luncheon held in Tallahassee.