President & CEO, JM Family Enterprises, Inc.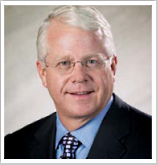 Colin Brown is president and chief executive officer of JM Family Enterprises, Inc., a diversified automotive corporation ranked No. 21 on Forbes' list of "America's Largest Private Companies." He leads the entire organization, including JM Family's Executive Management Team, which oversees the development and implementation of the company's objectives and strategies for future growth.
Brown directs all of JM Family's businesses, Southeast Toyota Distributors, the world's largest independent distributor of Toyota vehicles; JM&A Group, one of the leading independent providers of finance and insurance products in the automotive industry; World Omni Financial Corp., a diversified financial services company; and JM Lexus, the largest volume Lexus dealership in the world.
Brown joined the family-owned business in 1992 as vice president and general counsel. He was appointed chief operating officer in 1997 and president in 2000. Brown was named CEO in January 2003, becoming the first non-family member to hold the titles of first president and then CEO.
Before JM Family, Brown served as general counsel and a member of the senior management team for two FORTUNE 500 companies. He was senior vice president, general counsel and secretary for Fuqua Industries, Inc. in Atlanta, Ga. and, prior to that, served as senior vice president and general counsel for Cannon Mills Company in North Carolina. He received his initial training as an associate of the Wall Street law firm of Simpson Thacher & Bartlett in New York City.
In April 2005, Brown was nominated by Governor Jeb Bush to serve as a member of The Florida Council of 100, which is comprised of the state's key business leaders and serves to promote the economic growth of Florida and improve the economic well-being and quality of life of its citizenry. In 2008, he became a member of the Board of Directors for the Automotive Hall of Fame, an organization dedicated to recognizing outstanding achievement in the automotive and related industries. He has also been a member of the Broward Workshop since 2003, a forum of top business leaders that addresses critical issues facing Broward County.
Since 2005, Brown has served on United Way of Broward County's Board of Directors. Among his contributions is having helped the organization develop its Community Impact Model, designed to enhance donor interest, increase funding for pressing issues facing Broward County and improve outcomes for people in need. He is also a member of the organization's Tocqueville Society, founded by United Way of America to recognize individuals who have rendered outstanding voluntary service in their communities. As president and CEO of JM Family, Brown leads the company's annual United Way giving campaign.
Additionally, since naming Habitat for Humanity of Broward as one of JM Family's signature volunteer program partners in 2004, Brown has led the company's support of the organization through both corporate contributions and volunteerism. 
Brown currently serves on the Board of Directors for the Youth Automotive Training Center, a tuition-free, nine-month training program that educates disadvantaged youth in basic automotive repair, academic remediation, job readiness and life-management skills. Brown is also a member of the Board of Trustees for Florida TaxWatch, a private, non-profit research foundation dedicated to ensuring the tax dollars of Florida's citizens and businesses are being spent fairly and productively. He is a former board member of the National Conference for Community and Justice (NCCJ) and served as chair of the 2004 Urban League of Broward Equal Opportunity Day Awards Dinner.
Brown is often recognized for his corporate and community leadership. Florida Trend magazine recognized him as the 2015 Floridian of the Year for raising JM Family's minimum wage to $16. Brown was also named the Broward County Business Leader of the Year by the Fort Lauderdale Sun Sentinel, one of its four Excalibur Awards for 2011. The annual award honors individuals who distinguish themselves and contribute to the improvement of communities in Broward and Palm Beach counties. Additionally, Northwood University recognized Brown as part of its 2011 class of Outstanding Business Leaders for his professional and civic accomplishments.
Brown graduated from Duke University School of Law and holds a Bachelor of Arts degree from Williams College in Williamstown, Mass. He is on the Board of Advisors for Duke University School of Law and is a board member of the Williams College Alumni Fund. Raised overseas in a Foreign Service family, Brown resides in Lighthouse Point, Fla., and he has three children.
Founded by Jim Moran in 1968, JM Family is a $14.5 billion company ranked No. 66 by FORTUNE® as one of the 100 Best Companies to Work For®, its 18th consecutive year on the list. JM Family has approximately 4,100 associates and is headquartered in Deerfield Beach, Fla. The company also has major U.S. operations in Jacksonville and Margate, Fla.; Commerce and Alpharetta, Ga.; Mobile, Ala.; and St. Louis, Mo.