President/CEO, Human Business Works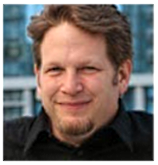 Chris Brogan has more than 11 years of experience using social media and both web and mobile technologies to build digital relationships for businesses, organizations and individuals. He consults and speaks professionally with Fortune 100 and 500 companies like PepsiCo, General Motors, Microsoft, and others on the future of business communications and social software technologies. He is a New York Times bestselling coauthor of Trust Agents, and a featured monthly columnist at Entrepreneur Magazine. His blog, chrisbrogan.com, is in the Top 5 of the Advertising Age's Power150.
Brogan is president of Human Business Works, an online education and community company for small businesses and solo entrepreneurs. His first project, 501 Mission Place, helps nonprofits and charities learn how to grow their capabilities. Chris is also an Entrepreneur in Residence at CrossTech Ventures, where he's working to develop New Marketing Labs and The Pulse Network, among other projects.
He is also the cofounder of the PodCamp new media conference series, exploring the use of new media community tools to extend and build value.