Region IV Regional Administrator U.S. Small Business Administration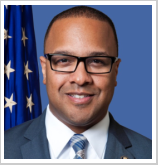 Cassius Butts was appointed by President Barack Obama in 2011. He is responsible for delivery of SBA programs in Alabama, Florida, Georgia, Kentucky, Mississippi, North Carolina, South Carolina, and Tennessee. During his appointment, Cassius Butts has had oversight of two record-breaking years for SBA Lending in Region IV; surpassing $7.7 billion in SBA-backed loans to small businesses within the aforementioned eight states.
Prior to joining SBA, Cassius was employed as one of three Chiefs of the Real Estate Owned Division within the U. S. Department of Housing and Urban Development where he began his federal career as a Presidential Management Fellow in 2002. Previous to his civil-federal career, since 1992, Cassius has worked in leadership positions for Nations Bank, Fleet Bank and Bank of America (MBNA) as well as the City of Atlanta. In addition, as a small business owner and consultant, he co-founded CB Consulting Group, LLC, which primarily offered entrepreneurial strategy and community engagement services.
As a strategist and advisor, Cassius has worked with many elected and appointed officials including Mayor Kasim Reed of the City of Atlanta. He is the recipient of many national, regional and local honors and awards. Cassius was recently appointed to the National Partnership Council in March of 2013. He is a 1994 graduate of Morehouse College, received his graduate degree from Clark Atlanta University's School of Public Administration in 2002 and Certificate of Grant Writing from Emory University's Life Learning Institute. Cassius is a 2005 graduate of the Atlanta Regional Commission's Regional Leadership Institute, and Leadership Atlanta (c/o 2012)- the nation's oldest sustained community leadership program.
As part of Advice Straight Up: An Expert Entrepreneur Speaker Series, the Jim Moran Institute sponsored Cassius Butts to speak at the 2013 Big Bend MED Week Economic Development Champion Awards Banquet.