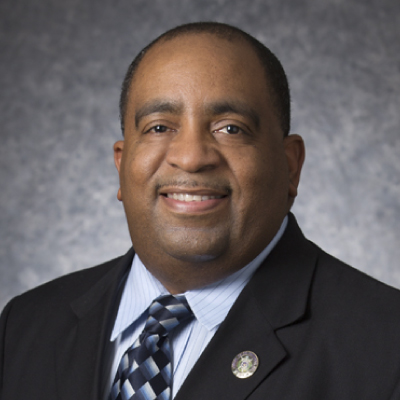 Professional Background
Simeon is the Vice President of Diversity Affairs for Austin Commercial and has been in the construction   industry for 28 years and managed diversity programs for 20 years. In his current role as Vice President, Mr.   Terry oversees the companies Diversity and Inclusion program both internally and externally. This includes   overseeing the cultural competency education, diversity compliance, affirmative action, recruiting/hiring,   mentoring and business procurement diversity. In addition, developing and implementing strategic strategies   that will maximize inclusion in the workforce diversity work space as well as in the supplier diversity work   space. The role of diversity affairs is to ensure that equity, diversity and inclusion are considered at the   highest levels of all decisions within the company and established as a core organizational value. Previously,   Mr. Terry has held the positions of Director of Diversity and Diversity Program Manager for Austin   Commercial over his 18 years with the company.
Mr. Terry works hand in hand with many different departments within Austin including; accounting, legal, risk management, marketing & business development, operations and human resources. Prior to his career in construction Simeon worked as a manufacturing engineering for McDonnell Douglas in ST. Louis, MO building F-18 Hornet Airplanes for the Navy and as a Loss Control Regional Manager for Liberty Mutual.
 Mr. Terry holds a Bachelor Degree in Industrial Engineering from Kansas State University and an MBA in Finance. He also holds a Master Compliance Administrator Certification (MCA) from Morgan State University.
Achievements / Recognitions
United States Department of Commerce Minority Business Development Agency State, Regional and National Minority Business Enterprise Advocate Of The Year Award Recipient (2005)
DFW International Airport M/WBE Advocate Of The Year Recipient (2005)
Recipient of the Champions of Diversity Award (2012), Diversity Business, Inc.
Recipient of the Minority Business Leader Award (2013), Dallas Business Journal
Recipient Airport Minority Advisory Council (2015) Hall of Fame Award
Recipient of the Omega Psi Phi Fraternity Omega Man of the Year Award (2010) Omega Psi Phi Fraternity, Inc.
Recipient of the Omega Psi Phi Fraternity Citizen of the Year Award (2016)-Omega Psi Phi Fraternity, Inc.