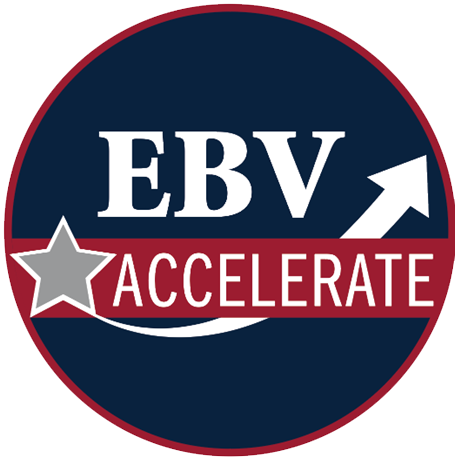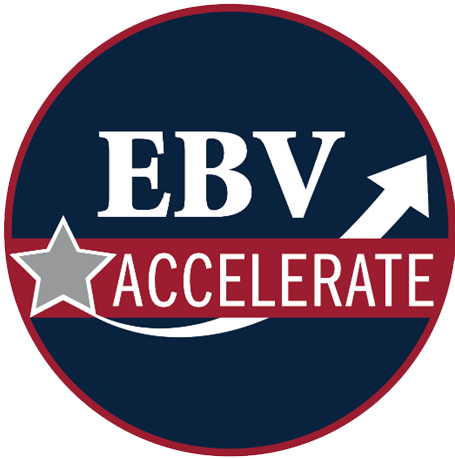 About
Ready to take your business to the next level? EBV Accelerate is a boot camp-style program focused on growth and tackles head-on topics such as the financial, management, marketing and strategic planning challenges established businesses face.
EBV Accelerate is a 3-phase program that gives veterans with a successful business the tools and coaching to propel their business to the next phase: sustainable growth. Topics will include acquiring growth funding, rebranding for expansion, determining a sustainable growth rate, establishing partnerships, managing cash flow, and much more.
---
Application & Schedule
Applications for the EBV Accelerate program are accepted year round on a rolling basis. In order to be considered for the next EBV Accelerate program taking place at Florida State University, please complete your application by clicking on the button below.
EBV ACCELERATE PROGRAM Schedule
| | |
| --- | --- |
| Date: | Activity: |
| TBD | Applications Close |
| TBD | Application Review |
| TBD | Interviews |
| TBD | Notification of Acceptance |
| TBD | Online Learning |
| TBD | Travel Day |
| TBD | Residency |
| TBD | Residency |
| TBD | Residency |
| TBD | Residency |
| TBD | Residency |
TBD
Online Learning
TBD
Travel Day
TBD
Residency
TBD
Residency
TBD
Residency
TBD
Residency
TBD
Residency
PHASE 1 – two weeks of online instruction focused on business analysis
PHASE 2 – is a three-day residency during which participants will create a personalized action plan for their business.
Tuesday-Thursday; Monday & Friday as Travel Days
Travel to the location is at the candidate's cost.
Lodging and meals are provided for the participant during the three days of Phase 2.
All program learning materials will be provided at no cost to the participant.
PHASE 3 – involves resources to support the growth of your business. 
---
Eligibility
Open to all veteran business owners – 50% or more ownership maintained by veteran
In business for 3 or more years
Must employ 5 or more full time employees
Veteran business owner must have served active duty with honorable discharge or general discharge under honorable conditions
Graduates of other IVMF programs are eligible
---
Costs and Logistics
As a result of the generous support of the EBV Universities and the private giving by individuals and corporations, lodging and meals for applicants accepted to the EBV Accelerate Program, are covered. Participants will have to pay for their own travel costs.
---
Give To EBV Accelerate
If you would like to make a donation to our EBV Accelerate program, please click on the button below:
---
For more information about EBV Accelerate, contact:
Melissa Roberts, Managing Director
Jim Moran Institute for Global Entrepreneurship
Florida State University, College of Business, Jim Moran Building
111 South Monroe Street Suite 3000, Tallahassee, FL  32301-1545
mroberts@jimmoraninstitute.fsu.edu
*Applications for the EBV program are collected by Syracuse University. You are not guaranteed a spot in the EBV program at FSU, and may be accepted at another of the consortium universities.
"The EBV Accelerate Program is an opportunity for service veterans to take important steps to their own economic freedom."
– Anisa Palmer
I Will Survive, Inc.