Associate Director, Palm Beach County Operations
Email:
cmickens@jimmoraninstitute.fsu.edu
Office:
Jim Moran Institute for Global Entrepreneurship, 1401 East Broward Boulevard, Suite 304, Fort Lauderdale, FL 33301
Phone:
954-399-2849
Degree:
Bachelor of Science in Management, Florida State University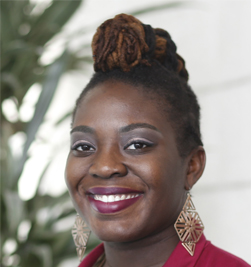 Courtney Mickens is the Associate Director of Palm Beach County Operations for the Jim Moran Institute for Global Entrepreneurship in the College of Business at Florida State University. Mickens ensuring that the overall preparation and execution of each event reflects the Jim Moran Institute's mission to cultivate, train, and inspire entrepreneurial leaders. Mickens started her professional career working with several startup nonprofit organizations that included Fuzion Promotions, a religious music event management company, and the Cultural Arts Alumni Association, aimed at protecting and promoting art and culture in the city of Miami.  Mickens then secured a position at the Fountain of New Life Ministries in Miami Gardens as the Director of Marketing and Communications. There, Mickens' talents and skills were stretched and cultivated as Mickens assumed the duties of Office Manager, Data Management Coordinator, and Community Outreach Coordinator. Before her departure, Mickens assumed the role of Worship and Creative Arts Director, giving her a well-rounded knowledge of large-scale event management, human resourcing, commercial production, live stream production, and graphic arts.
Mickens is a member of the Alliance of Entrepreneur Resource Organizations, Leadership Hollywood, Greater Hollywood Chamber of Commerce and the Miramar Pembroke Pines Regional Chamber of Commerce.
---
INTERESTING FACTS
In her recreational time, Mickens is a professional recording artist, vocal music arranger, event host, and vocal clinician and performs regularly in South Florida.
title-inside title-centered
2