Facilitator, South Florida Operations
Email:
cjenkins@jimmoraninstitute.fsu.edu
Office:
Jim Moran Institute for Global Entrepreneurship, 1401 East Broward Boulevard, Suite 304, Fort Lauderdale, FL 33301
Phone:
561-247-5506
Degree:
Bachelor of Science in Business Management, Central State University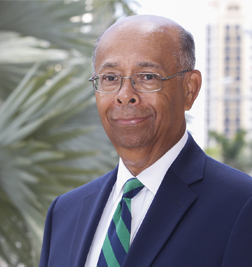 Claude Jenkins is the Palm Beach County Facilitator of South Florida Operations for the Jim Moran Institute for Global Entrepreneurship in the College of Business at Florida State University. As a Facilitator of the Small Business Executive Program and the Nonprofit Executive Program, he ensures the programs provide a world-class learning experience. Jenkins has had a diverse career ranging from government, to corporations to management consulting.  Jenkins worked his way through college as a firefighter and later had the opportunity to become Fire Chief in four communities in three states. As fire chief, he implemented productivity improvement programs based upon preventing fires.  In doing this, departments were able to increase their on-duty productivity by as much as 400%. After 22 years in the fire service, Jenkins was hired away to the corporate world where he applied his business approach philosophy of productivity improvement to "labor intense" operations. Jenkins then led his own management advisor group for 15 years, which showed companies how to effectively improve employee performance, productivity and profits. He has written magazine articles on management practices and has spoken nationally on how to run successful operations and effective hiring practices.
Jenkins is a graduate from the National Staff & Command School from the University of Maryland and a graduate from the Executive Development Program at the National Fire Academy.  Jenkins is a member of the Business Development Board of Palm Beach and Central Palm Beach Chamber of Commerce. 
title-inside title-centered
2